Fashion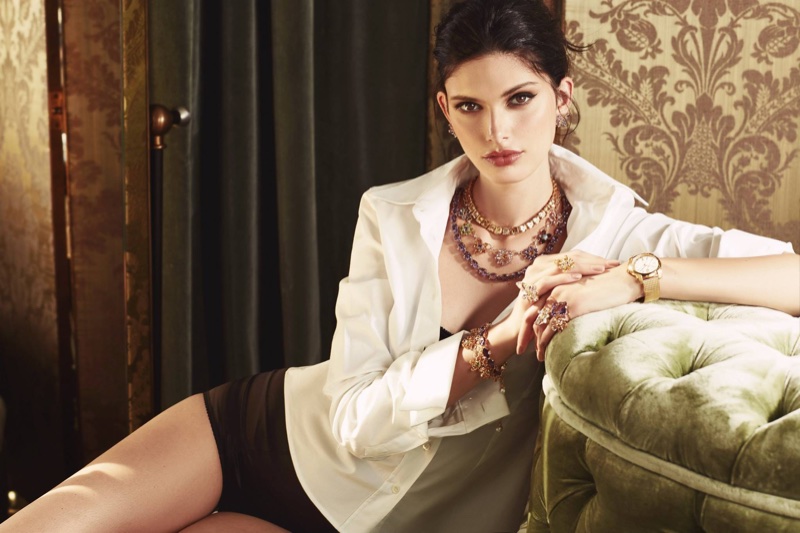 Giulia Manini sparkles in Dolce & Gabbana's latest Jewellery campaign
Italian fashion house Dolce & Gabbana turns up the shine factor with the launch of its 2017 Jewellery campaign. Photographed by Nima Benati, model Giulia Manini appears in the sun-drenched images. The brunette layers up in colorful gems featuring gold wristwatches, floral charms and chandelier earrings. Posing with fresh fruit, Giulia serves pure elegance in each shot.
DOLCE & GABBANA JEWELLERY 2017 CAMPAIGN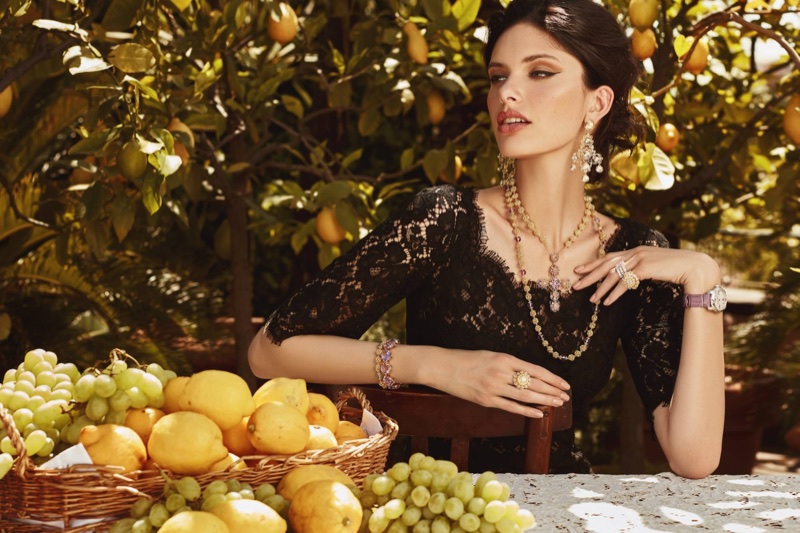 Giulia Manini stars in Dolce & Gabbana's 2017 Jewellery campaign
Fashion
Never ones to brush anything under the rug, the designers behind Italian fashion house Dolce & Gabbana are playing into the cries of their critics, urging them to boycott the company. In the new protest mode of choice in the fashion industry, Dolce & Gabbana is selling expensive t-shirts that read #BOYCOTT DOLCE & GABBANA.
The $245 shirts are currently available on Dolce & Gabbana's website, alongside a short film of Italian protesters wearing the shirts during a demonstration against the company. The company's founders and creative directors, Domenico Dolce and Stefano Gabbana, are among the protesters depicted in the video.
The shirts come on the heels of Instagram posts from Gabbana in support of First Lady Melania Trump. Last month, in particular, Gabbana took to Instagram to highlight Trump's Dolce & Gabbana outfits during her recent overseas trip, which caused no shortage of controversy amongst Instagram users. In one of his posts, Gabbana called out "haters," urging them to boycott the brand – by buying a t-shirt, in what appears to be fashion's latest attempt to profit from the state of the Trump presidency.
(If you are unsure how eager people are to profit from the political status of the U.S., in particular, consider how many people have rushed to trademark offices across the world to register "Covfefe"in order to have a monopoly over the Trump-tweeted-word).
D&G's boycott tees may be a new product for the Italian mega-brand but they are just the latest political/activism-leaning wares to join a whole slew of other products in the tokenism that surrounds fashion's other favorite causes, including feminism, human rights, unity, and the general message of protest/resistance. All of these causes have been given the fashion treatment (aka embodied on expensive garments - such as $710 Dior "We Should All Be Feminists" tees and $90 "Protest" tanks tops from Opening Ceremony - and sold) in recent seasons.
This movement in general – whether intentionally opportunistic or not – is questionable for a number of reasons, including but certainly not limited to the fact that true protest or "action" does not consist of buying a designer sweatshirt and calling it a day, despite what Opening Ceremony, Christian Dior, and co., would like you to believe.
The funny thing surrounding the push for politically-motivated garments and accessories is that many brands - while initially aiming to profit from the products - do not stand to earn much from them at all, as public cries of opportunism and poor taste have forced many brands to change their stance. Both Dior and Opening Ceremony, for instance, have gone back on their initial messaging in connection with their wares, announcing - after the fact - that they will donate the proceeds of such sales to charity.
Other Brands
When we think of Dolce & Gabbana, we think of Italy and the fine craftsmanship. We think of all the high fashion brands that have been invented in that beautiful country. And when we spotted this fresh D&G Box Bag, we immediately fell in love; the tassel truly made our heart melt.
Presented for the Spring Summer 2017 Collection; this compact shoulder bag radiates nothing else than love. It's made in minimalistic design, which is what we love the most because it marries effortlessly with any outfits. The top center of the bag is crafted with a branded plaque for recognition; it reads Dolce & Gabbana Milano Italia. But what really captivated us is the cute tassel that's attached to the zipper. The leather tassel is further refined with playful pompoms that brings the fun personality to the overall look. And if you pick the right color, the golden studs on the end of the leather tassel are really a plus. Now the bag comes with a leather shoulder strap that can be adjusted. This bag is ideal to use as an everyday bag as well as for casual clothing like simple jeans.
The interior is as beautiful as the outside as it's made with polka dots. There is one large compartment for all your essentials but it also features a slot pocket and card slot. Measuring 6.5' x 8.5' x 3' (H x W x D) inches, priced at $1145 USD, €1140 euro, $1300 AUD, $8300 HKD, ¥115000 JPY
Fashion
Discover Dolce & Gabbana x MyTheresa's exclusive summer 2017 capsule collection
Italian fashion brand Dolce & Gabbana and online luxury retailer MyTheresa have teamed up on another exclusive collection. Made for Summer 2017, the collaboration focuses on Mediterranean inspired prints, bejeweled accents and leather handbags. Choose from breezy dresses, retro swimwear and casual separates for the new season.
DOLCE & GABBANA X MYTHERESA SUMMER 2017 CAPSULE COLLECTION
Dolce Gabbana Printed Cotton Dress $1,575
Get ready to embrace summer in a cotton poplin dress featuring a classic fit-and=flare silhouette with a prickly pear print.
Dolce & Gabbana Lucia Embossed Leather Shoulder Bag $1,995
Made of embossed leather, this dress features a structured silhouette with gold metal hardware.
Dolce & Gabbana Printed Swimsuit $645
Stand out at the beach with a retro inspired swimsuit including a halter neckline and ruching.
Dolce & Gabbana DG Millennials Leather Shoulder Bag $1,995
A bold red leather shoulder bag features D&G's signature logo as well as a gold chained strap.
Dolce & Gabbana Embellished Leather Sandals $795
Turn up the shine factor in a leather pair of sandals decorated with crystal and faux-pearl embellishment.
Dolce & Gabbana Printed Silk Dress $3,995
Have a Marilyn Monroe moment in a breezy halterneck dress made of printed silk.
Dolce & Gabbana DG Millennials Mini Leather Shoulder Bag $1,195
Emerald-green leather and a D&G logo embellished with crystals make this bag a showstopper.
Other Brands
Dolce & Gabbana is returning with a bang for their popular Dolce Collection and one certain bag caught our discerning and meticulous attention. This bag is the Dolce & Gabbana Dolce Quilted Lace Bag.
For bagaholics out there, you'll likely acknowledge the fact that D&G doesn't make much quilted handbags and to break away from this tradition, the Dolce Quilted Lace Bag is considered to be an unconventional one in the best possible way. And we are in love with it.
It has a gold colored metal hardware to match its beautiful black quilting canvas and has ruffled lace trim on the sides for a feminine touch! It also has a lock charm with turn lock closure in the middle for a vava voom effect!
Take a look inside, it has one internal zip compartment and two internal compartments to keep your things safe and sound. It also has a detachable metal chain shoulder strap so you can easily transition it from being a shoulder bag to a cross-body bag and a handbag!
Measuring 14 x 21.5 (H x W) cm and is priced $1295 USD, €895 euro, £895 GBP, $1900 SGD, $1950 AUD, ¥149000 JPY
Tag: Bag QUILTED Dolce Gabbana LACE
Other Brands
After taking a look at Dolce & Gabbana's ready-to-wear campaign earlier this year, the brand has released its spring 2017 eyewear advertisements. Influencer Sonia Ben Ammar returns for a series of colorful shot captured by Franco Pagetti.
Photographed in Capri, the new season spotlights bold frames. From round shapes to cat eyes and opticals, the eyewear features bold embellishments. The #DGMambo motif decorates several styles as well as leopard prints. Discover more from Dolce & Gabbana's spring eyewear campaign below.
DOLCE & GABBANA SPRING/SUMMER 2017 CAMPAIGN
Designer Bags, Wallet, Purse, Belt & Accessories Official Site, Best Price & Quality, Free Worldwide Shipping, Free Returns. Every Bag Is A Work Of Art - Handmade - Cowhide Art - Can Custom-Made

Categories

New Posts

Hot Posts