Other Brands
Here's a multifunctional cardholder that I really like a lot. The size is slightly larger than the regular cardholders, but it's evenly flat and more practical. It's called the Celine Compact Card Holder from the Spring 2018 Collection.
The Design
The classic look is ideal for any lifestyle. If it's for daily or regular use, the streamlined and minimalistic design will match with any handbag. If it's for work, the humble and solid color will not exaggerate the meeting. So it's best for all worlds.
If you're looking into Celine, the quality is the most important aspect. The cardholder is made from drummed calfskin, which is durable leather. Isn't that what we're looking for in high fashion?
Even tough everything is minimal; there is a logo on the front of the cardholder. It's softly printed, but still the 'Celine Paris' will put a smile on any woman's face.
The Interior
The front is made with 4 card slots and there is a patch pocket on the side. You can open the wallet with the zipper to get into the interior.
Chanel Classic Flat Wallet Pouch Or Celine Compact Card Holder
Previously we wrote about the Chanel Classic Flat Wallet Pouch, which looks quite similar to this Celine Compact Card Holder.
The Chanel Classic Flat Wallet Pouch
The Chanel Classic Flat Wallet Pouch also features several card slots on the back. It's also diamond quilted and made from lambskin. The front features a flat pocket and there is a zip pocket on the side.
There is a huge difference in prices though. The Classic Flat Pouch is priced at $700 USD while the Celine's version is priced at $450 USD (prices as per May 2018). So which one would you prefer?
The Prices And Sizes
Measuring 5' x 3' inches, priced at $450 USD, €300 EUR, £275 GBP, $580 SGD, $3500 HKD, $560 AUD, ¥48000 JPY via Celine boutiques.
More Images And Colors
Other Brands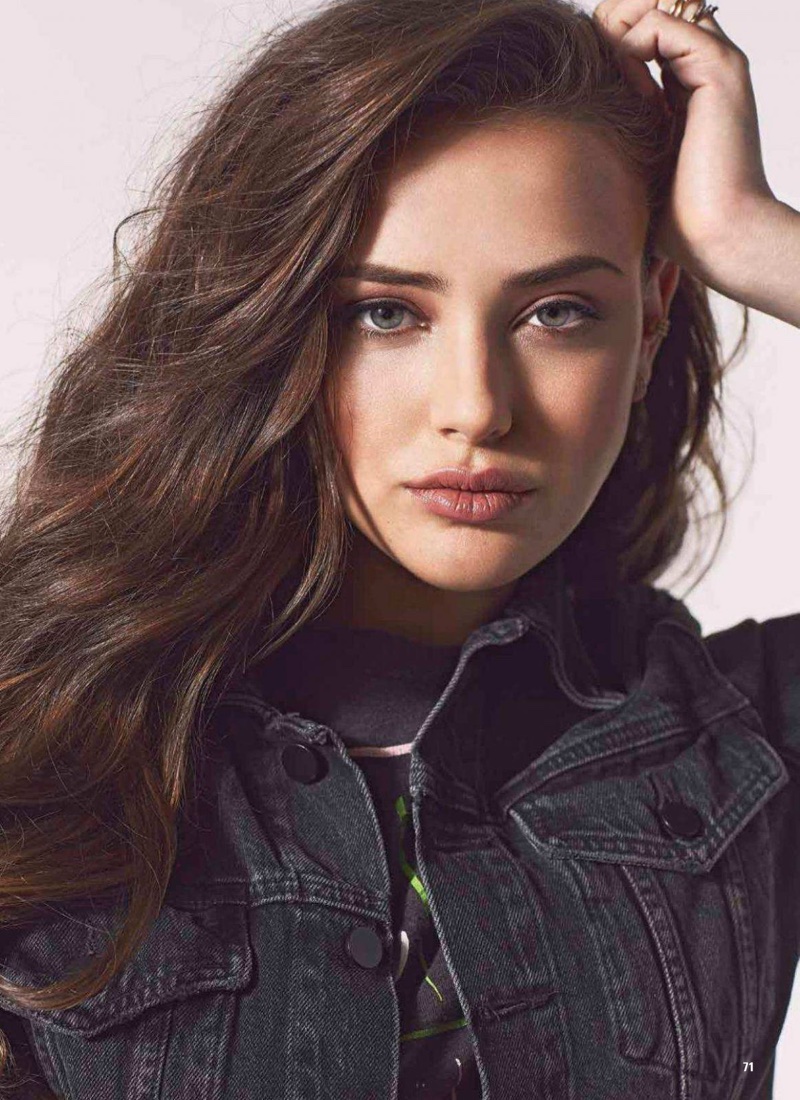 Actress Katherine Langford graces the pages of Seventeen Mexico's June 2018 issue. Photographed by John Russo, the '13 Reasons Why' star poses in chic looks for the fashion glossy. Katherine wears a mix of denim, floral prints and ruffled shirts for the shoot. Her signature brunette tresses are styled in long waves while she shows off her bee stung pout.
Related: Katherine Langford is a Fresh Face for Marie Claire
FASHION SHOOT: KATHERINE LANGFORD FOR SEVENTEEN MEXICO JUNE 2018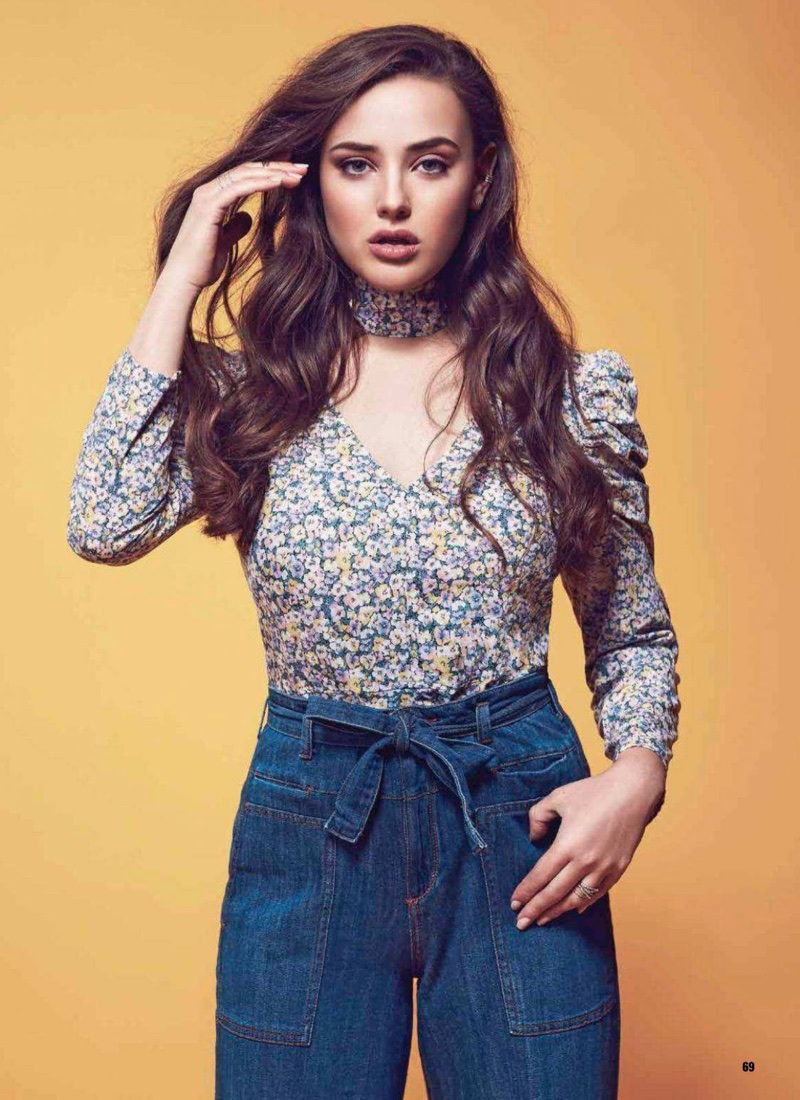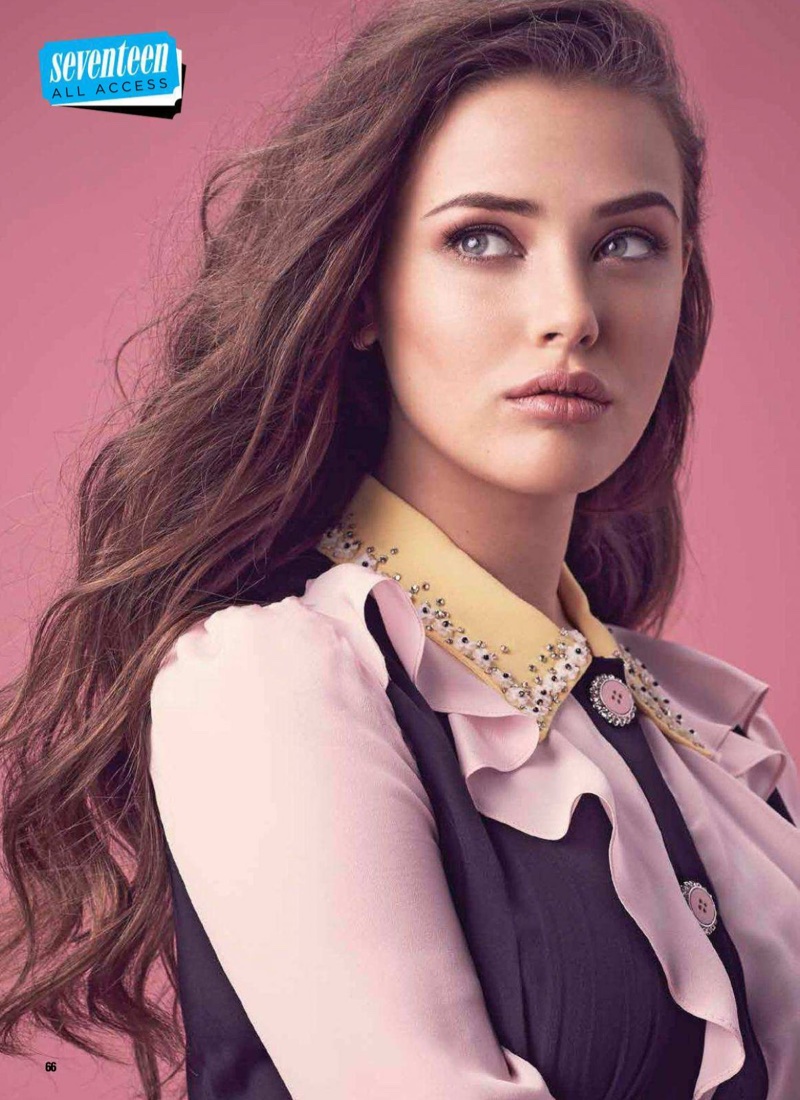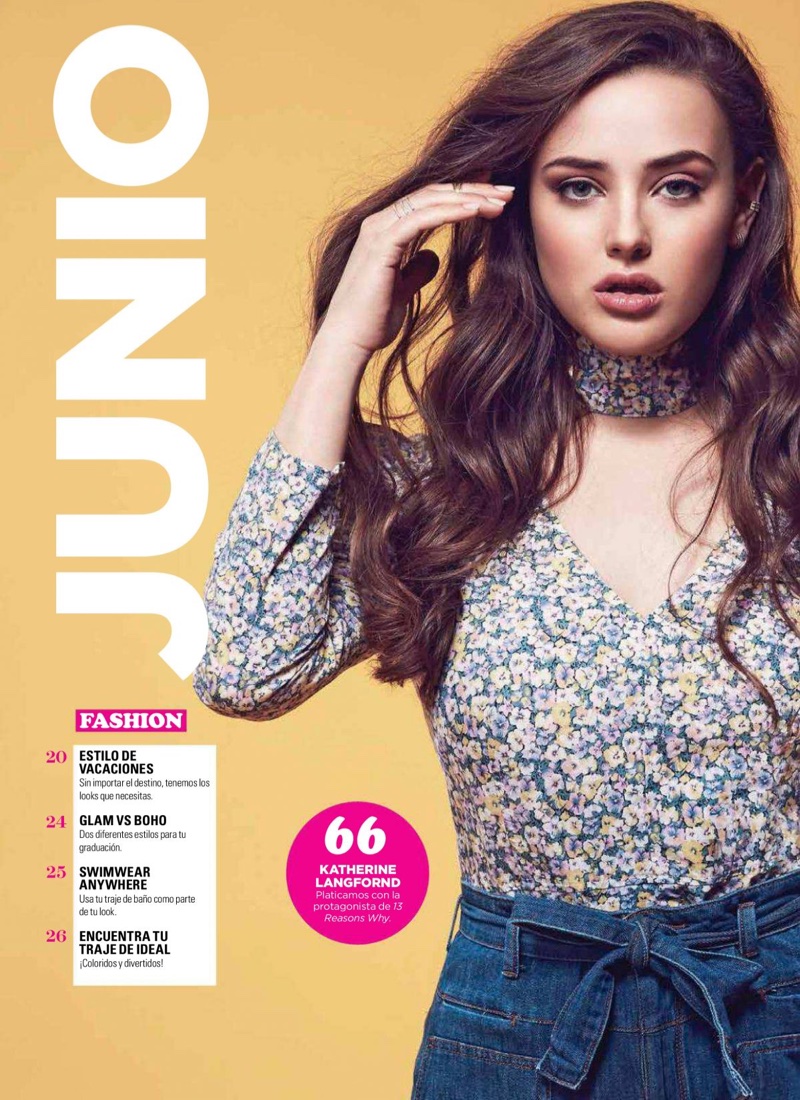 Other Brands
Rosie Huntington-Whiteley lands the June-July 2018 cover of Harper's Bazaar Australia. Photographed by Darren McDonald, the British beauty wears a printed dress from Alexander McQueen. In the accompanying spread, Rosie poses in looks from the pre-fall collections. Stylist Kristen Ingersoll selects designs from labels such as Dior, Emporio Armani and Calvin Klein.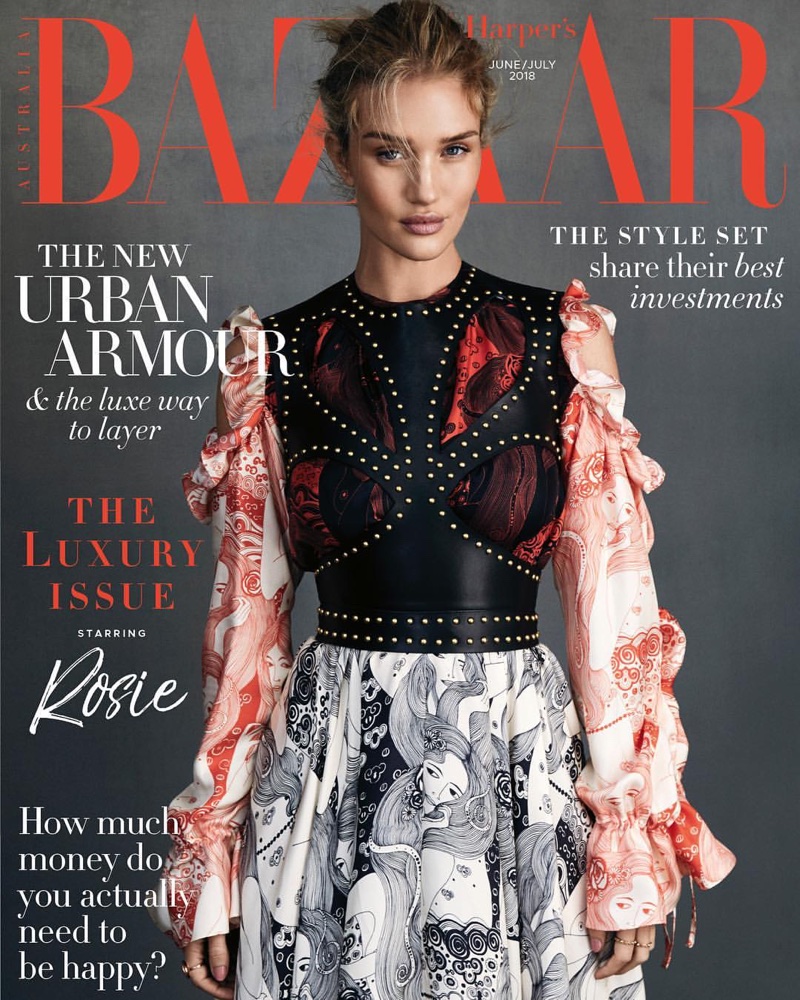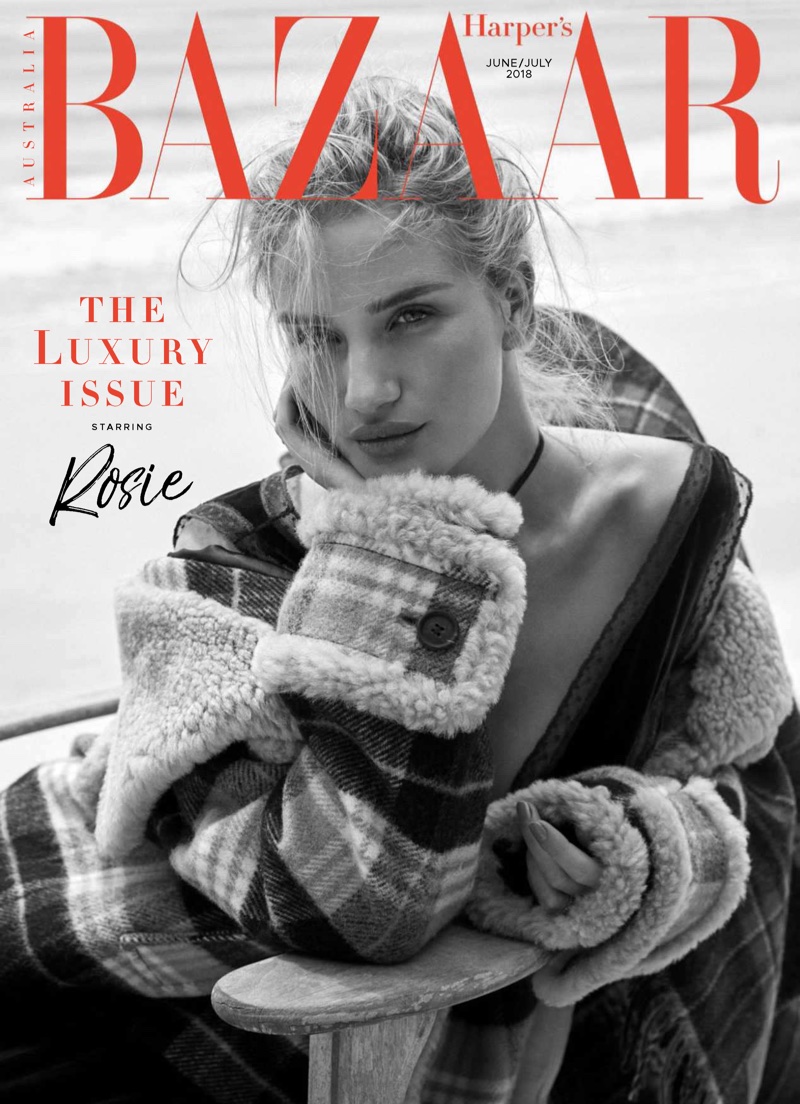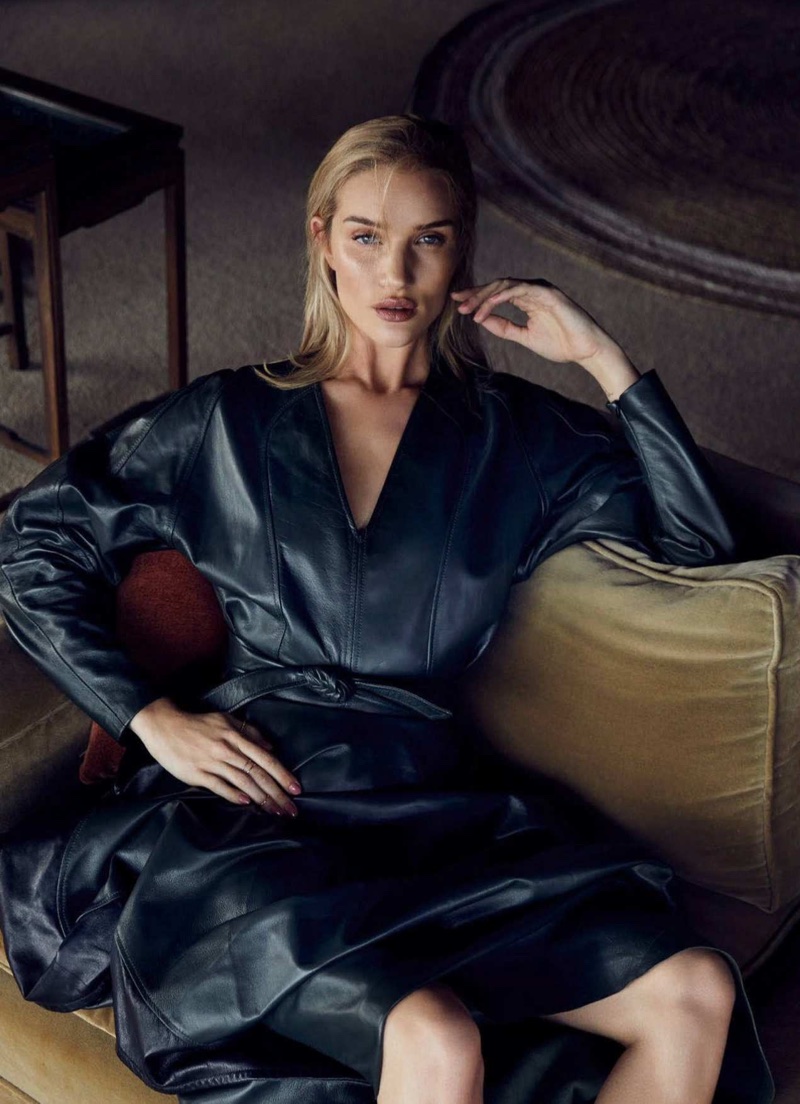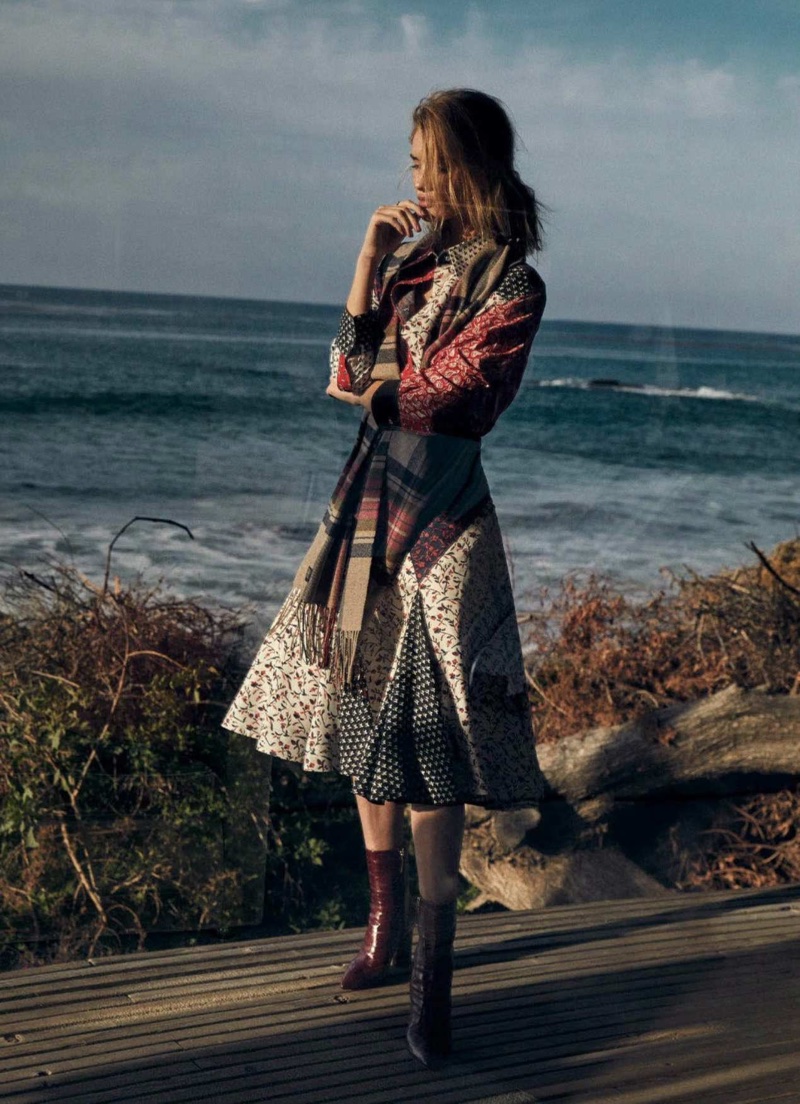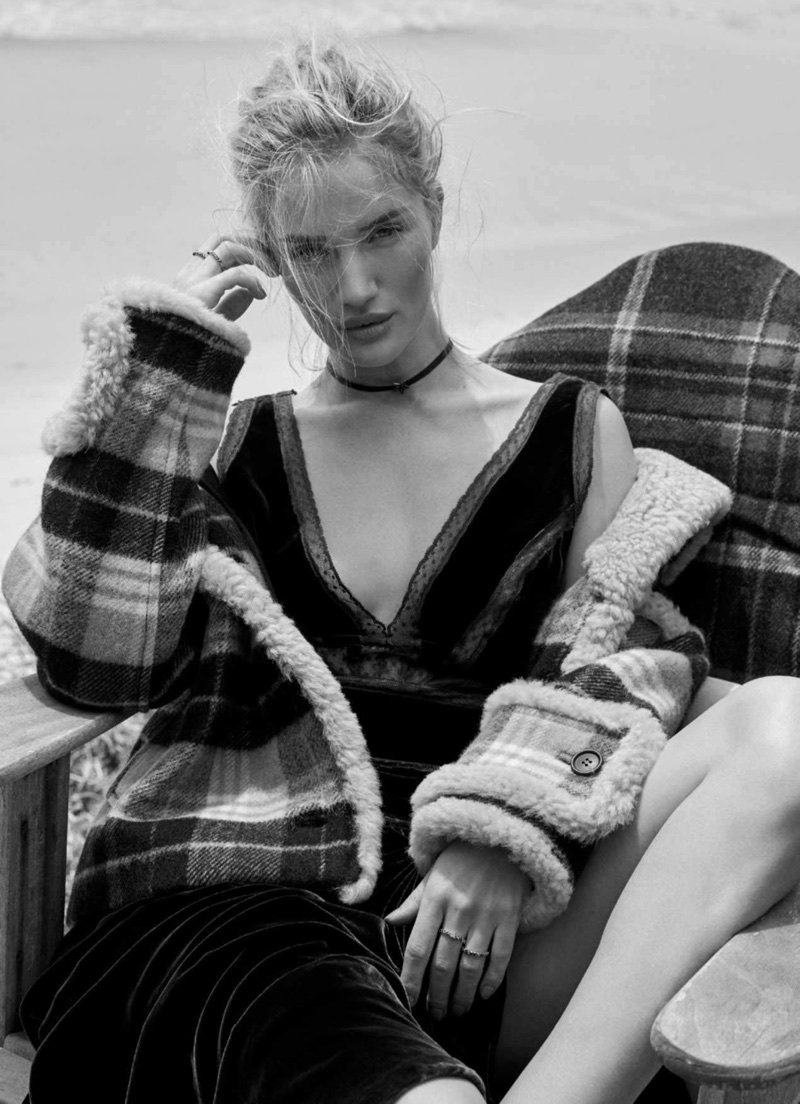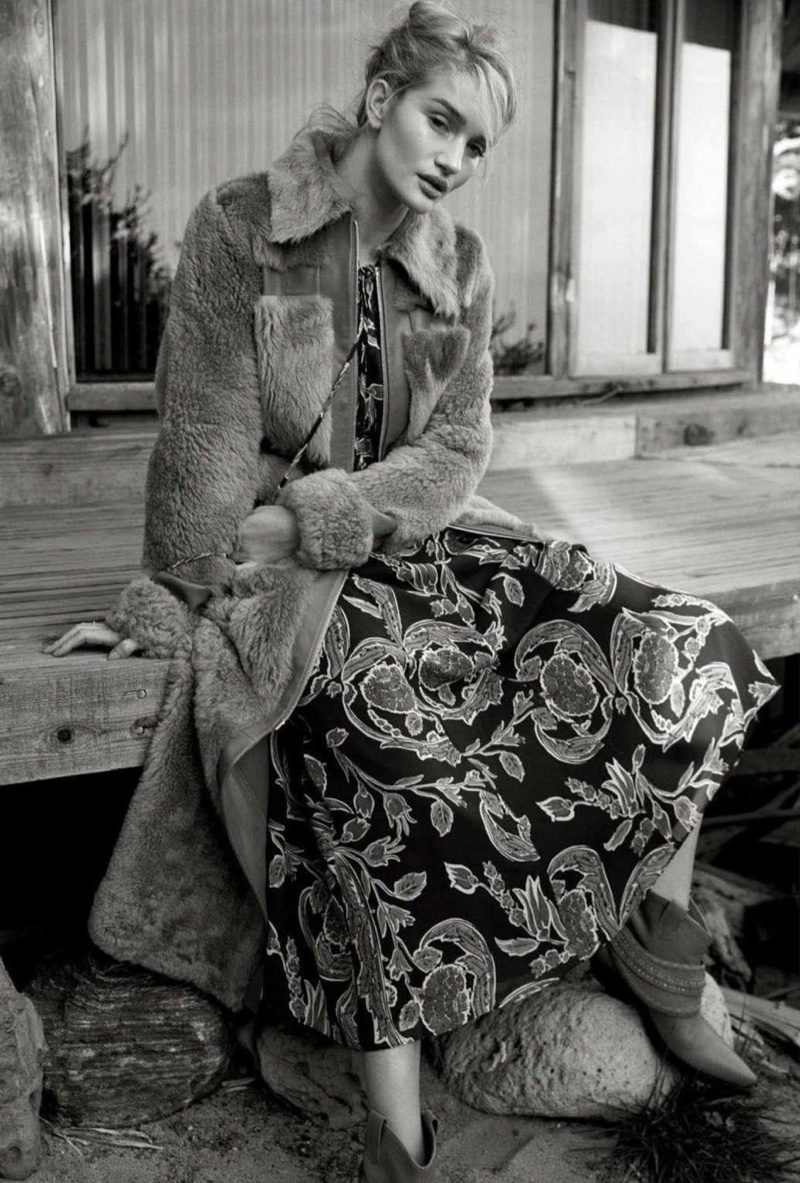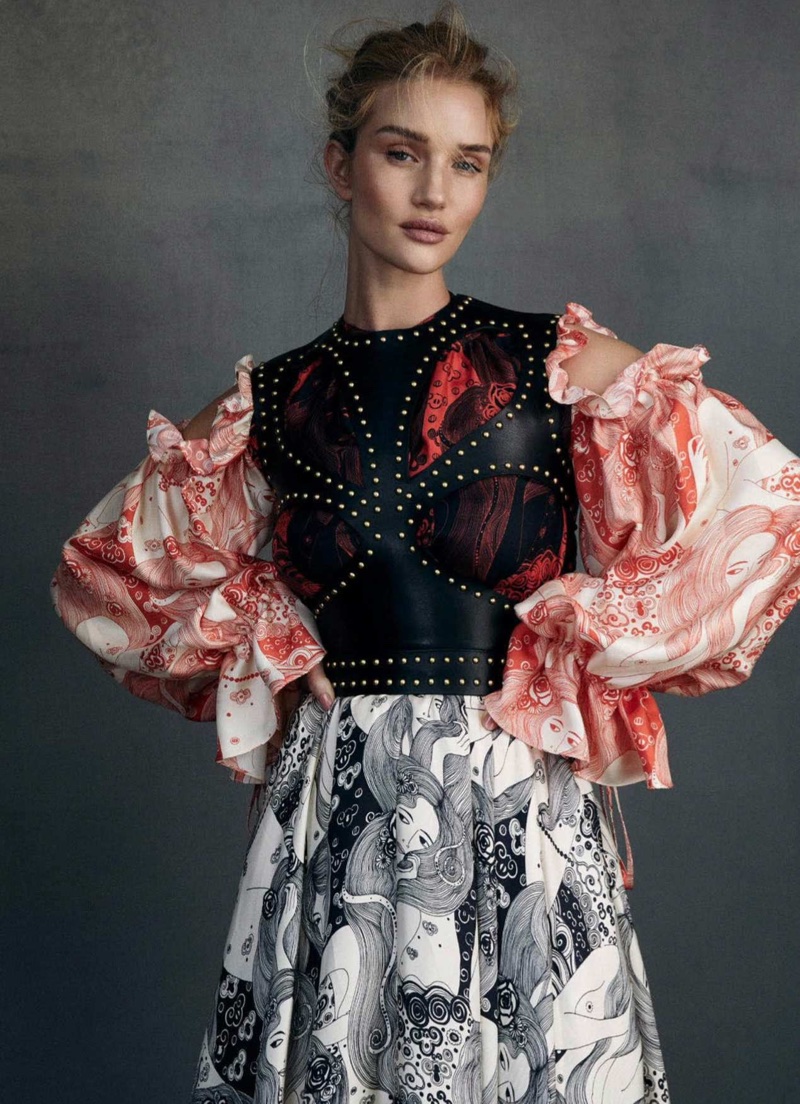 Other Brands
Most people still prefer the Wallet On Chain Bag, but the Clutch With Chain is getting better everyday. And it's also less expensive comparing to the WOC yet the style looks evenly glamorous.
For the Spring Summer 2018 Collection, the CC Box style has been integrated into the Chanel Clutch With Chain. And the results? A gorgeous fashion piece.
The CC Box is a new line, but it's slowly joining the rank of the 'upcoming classics' like the Trendy CC Bag or the CC Filigree Bag. However, the Chanel CC Box Clutch With Chain is a seasonal bag and it might not be available anymore when this season ends.
The Design
So take a good look at the CC Box Chain Clutch. It's actually a very cute handbag, perfect for the evenings or carry it as a mini shoulder bag at day. The front features the new modern CC logo in part hardware and part leather. The rectangle shape reminds me of the New Mini Bag, but with a complete different feel.
It comes with woven chain leather strap for shoulder or cross body carry. The front is also supported with a leather strap that connects with the medium-sized CC logo.
And for this season, this Chain Clutch is made from lambskin, which is a butter soft leather.
The Interior
The top comes with two zippers and three compartments. There is a central compartment as well as two side pockets. It has less organized pockets like the WOC, but there is space enough for all your daily essentials.
The Prices And Sizes
Style code A84427, measuring 3.9' x 7.5' x 1.6' inches, priced at $1650 USD, $2175 CAD, €1550 EUR, £1400 GBP, $2600 SGD, $13600 HKD, $2440 AUD, ¥213,840 JPY, 8120 MYR via Chanel boutiques.
More Images And Colors
Other Brands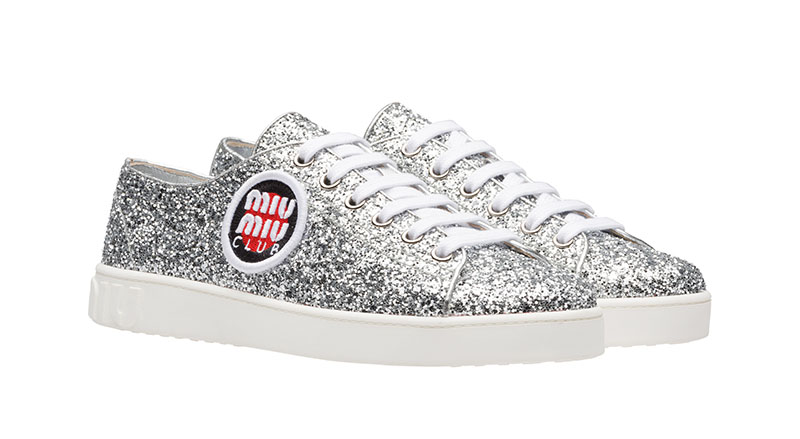 Thanks to the popularity of sneakers on the runways, trainers are no longer just for sneakerheads any more. Whether you are looking for a casual outing, workout or even date night, there's so many styles out there. Don't know where to start? Discover these five sneaker trends perfect for wearing in 2018.
GLITTER SNEAKERS
The first and probably most glamorous trend is the glitter sneaker. These are great for those who want to stand out from the crowd. Whether you're looking for just a touch of glitter at the back or an all over look, they will really make your outfit pop. Wear this trend with cropped trousers or a sun dress for a playful ensemble. Shoe labels including adidas, Gucci and Saint Laurent have jumped on this style.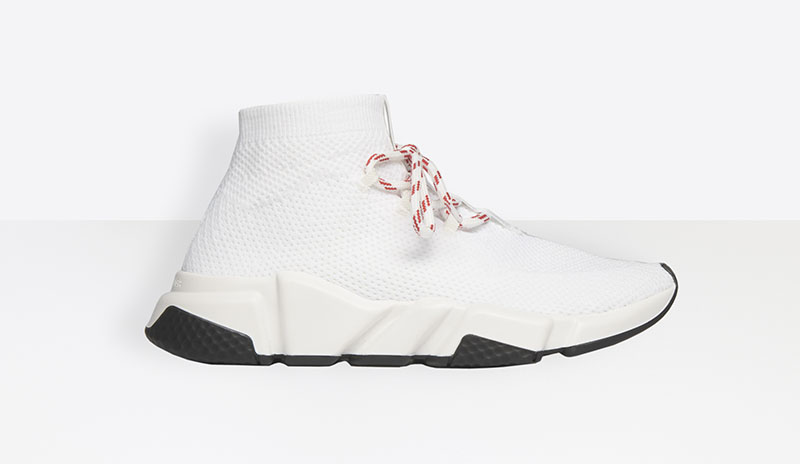 UGLY SNEAKERS
Another trend to keep your eye on is the ugly sneaker. Brands such as Nike, Stella McCartney and PUMA have embraced the style of chunky and bulky dad sneakers. You can keep it minimal in an all white or black style, or add more attitude with a color-blocked sneaker. The ugly trend goes perfectly with a casual look including cropped jeans or pants from SSENSE.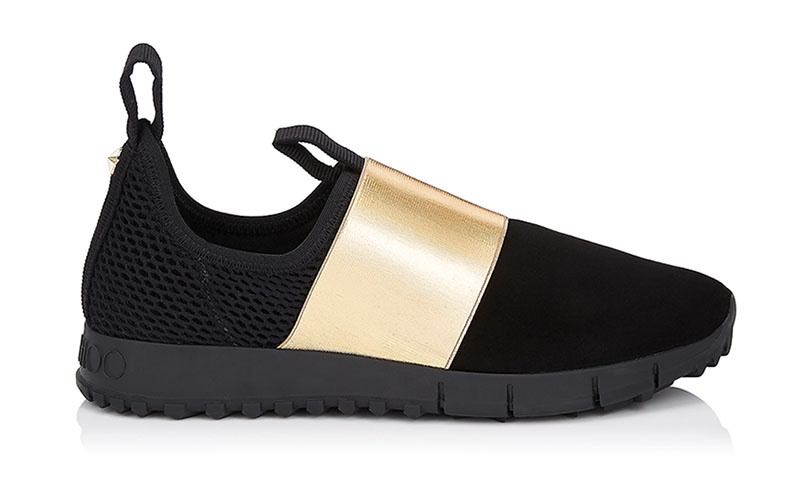 FUTURISTIC SNEAKERS
When it comes to fashion trends, you will always want to be one step ahead of the curve. And for shoes, futuristic sneakers will certainly take your outfit to the next level. Choose from mesh styles, metallic uppers and fashion forward silhouettes. The futuristic trend usually includes a color palette of black, silver and grey. Shop these style sneakers from brands like Golden Goose, Moschino and Balenciaga.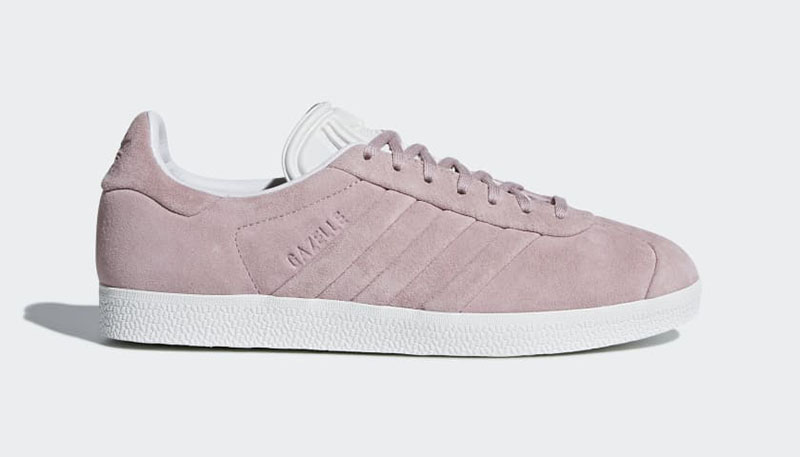 90'S SNEAKER NOSTALGIA
Another trend that you'll like, especially if you're a fan of retro style, is the 90's sneaker redux. Popular styles from the decade found a resurgence in recent years. You probably don't have any of these in your closet, but you can find them brand new. From the adidas' Gazelle to Nike's Air Max and Fila's Disruptor sneakers, the 90's are back in a major way.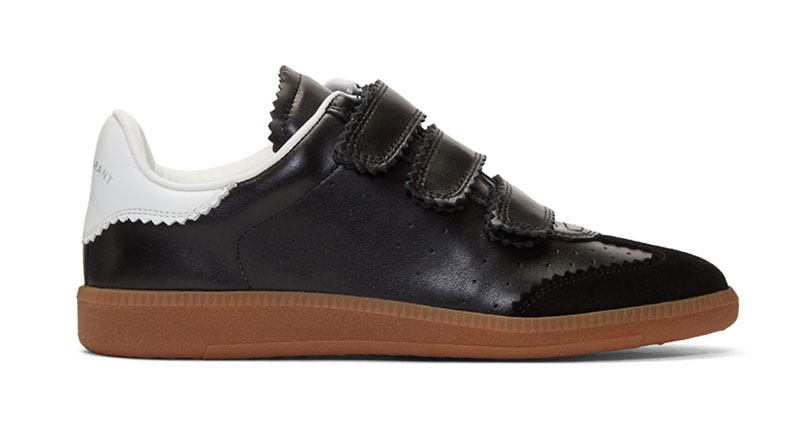 VELCRO SNEAKERS
Last but not least, the velcro sneaker trend will remind you of being a kid. But thanks to brands such as Miu Miu, Tretorn and Isabel Marant, velcro sneakers are now for adults. Whether decorated with logos, metallic or fringe, these styles are easy to slip into. Wear with your favorite pair of jeans or a flirty skirt for the perfect look.
Other Brands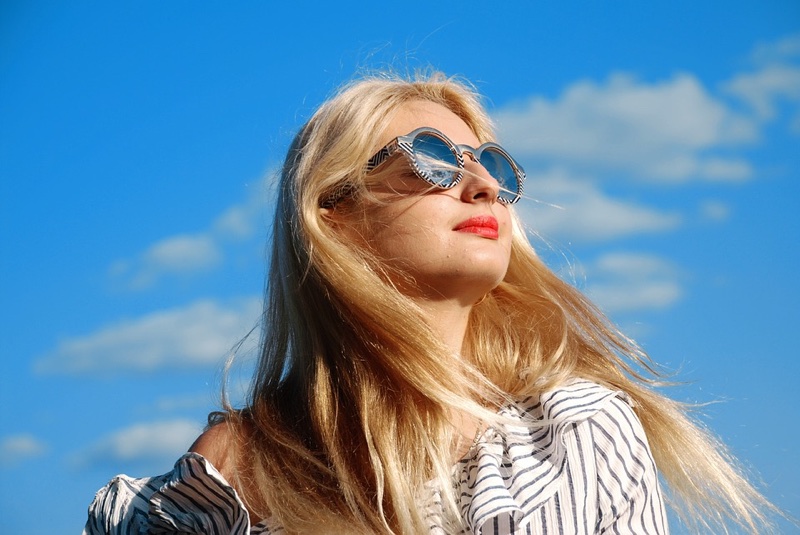 The world of fashion has changed and it's no longer the top design houses in London, Paris, Milan or New York people turn to when they want to know what they should be wearing this season.
Fashion forecasters and bloggers can have more influence, but who actually decides what will be fashionable this year? Also, how influential are fashions and trends in areas other than the clothes industry?
INFLUENCERS AND FORECASTERS HELPING FASHION HOUSES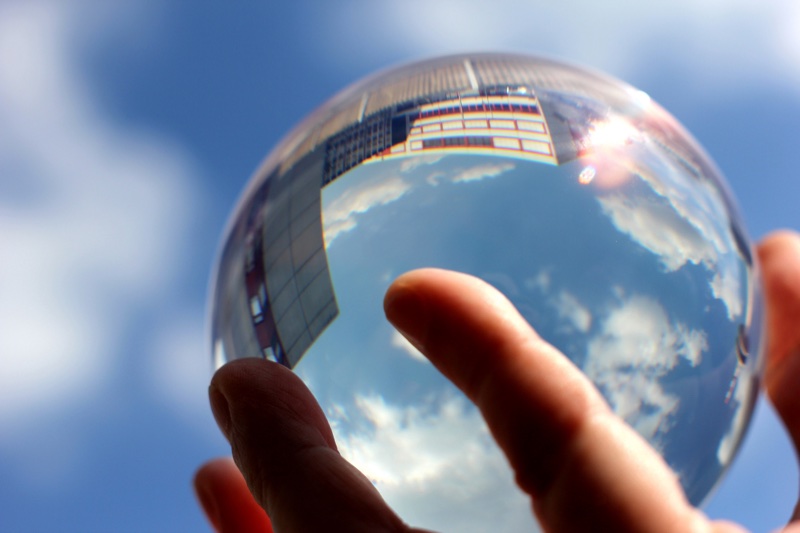 'Crystal Ball/Glaskugel' – Christian Schnettelker via Flickr (CC BY 2.0)
When top fashion houses release a new collection, they have the power of online influencers and forecasters to help them get it into the public domain. Many of the influencers are celebrities who can have many millions of followers on social media. The forecasters follow trends and try to fathom what will be fashionable next year and beyond. The fashion houses use the services of both to try and be the one who comes out on top in the fashion world.
FASHION IN GAMING
Clothes are not the only area where things go in and out of fashion. Online slots can be fashionable, as can adventure games and the platforms they are played on. For example, Mermaid's Diamond and Pink Elephants were chosen by SlotsOnlineCanada as two of the top 5 most fashionable slots – both in terms of appeal and of graphics. In the area of consoles, things are similar. One month the Xbox will outsell the PlayStation, and the next it can be the other way round. The digital devices that online casinos are played on can be just the same, although overall it seems that iPhones are leading the fashion in smartphones at the moment.
HOUSEHOLD FASHIONS
Household fashions change all the time. You will know from visiting other people's houses how different furniture, curtains, and accessories can be. This is not just because of personal taste but because the retailers change what they are selling as the fashions in household goods change.
Homes used to be very cluttered, with walls full of pictures and every little bit of floor space used. These days the fashion is to have a cleaner and sharper feel to your rooms, with much less in them. Even with the items of furniture you do buy, fashions alter all the time.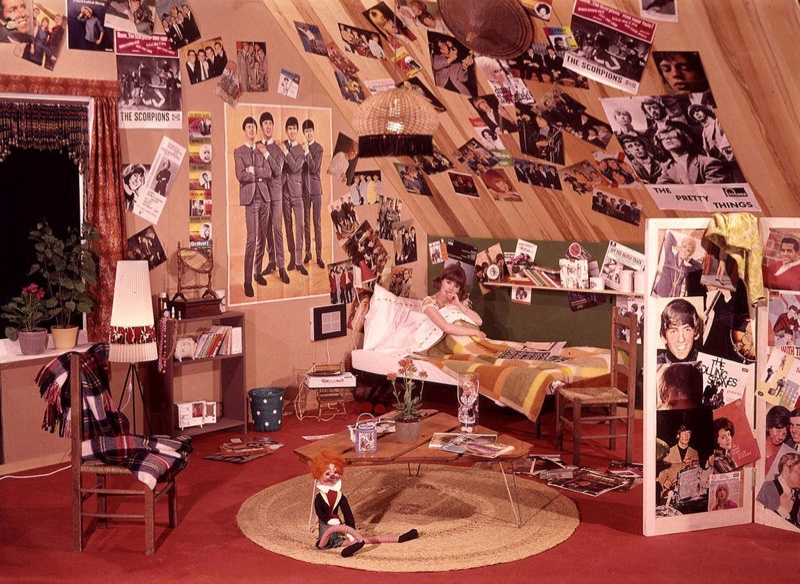 'memories of the Sixties' – Paul Townsend via Flickr (CC BY-SA 2.0)
FASHIONS AND TECHNOLOGY
We all have some sort of technology, whether in our homes or at work. There are our computers and other digital devices, just for starters, and then things like TVs and other electrical items. Some of them may be old technology by today's standards, but they are technology non-the less. New innovations are being produced by developers every day, and as soon as something proves to be very useful or relaxing for users, it does not take long for it to become fashionable. The problem with technology is that it's evolving at such a pace that often products are at the front of the field for a very short time as something new quickly surpasses them.
CHANGING MOODS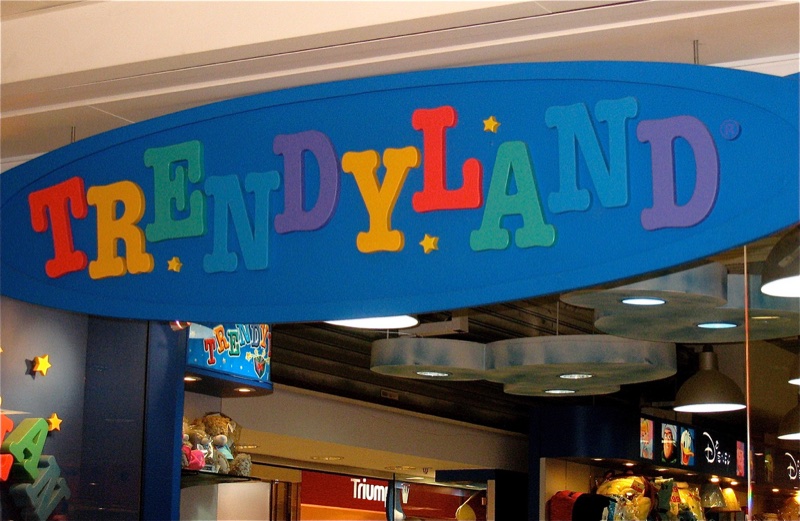 'Where All The Cool Trends Come From' – Alan Levine via Flickr (CC0 1.0)
Fashions in all parts of our lives have altered beyond what we could have imagined just a few years ago. Look at music, films, or jewelry from a few years ago and it will all seem very dated. Although some things occasionally come back into fashion, most things seem to be changing as often as our moods. That could be because marketers and producers watch out for the mood of the public, and pitch their sales promotions to suit them.
Designer Bags, Wallet, Purse, Belt & Accessories Official Site, Best Price & Quality, Free Worldwide Shipping, Free Returns. Every Bag Is A Work Of Art - Handmade - Cowhide Art - Can Custom-Made

Categories

New Posts

Hot Posts